About GCIV
The Georgia Council for International Visitors builds relationships between the people of our state and leaders around the world.

Our vision is that every Georgia citizen has the opportunity to be more globally engaged.

Who's coming to town?
<![if !supportLineBreakNewLine]>
<![endif]>
August 3-6
Israel
Four High School Educational Advisers and One National Coordinator of Immigrant Student Integration
Focus: Multiculturalism in the U.S. Education System

August 10-14
Russia
Eight Delegates
Focus: Youth Activism and Engagement

August 16-20
Kyrgyzstan
Four NGO Leaders
Focus: NGO Advocacy

August 17-20
Organization for Security and Co-Operation in Europe (OSCE)
Four Delegates
Focus: Democratic Governance and Foreign Policy

September 12-16
Nigeria
Thirteen Parliament Members
Focus: Democracy and Good Governance

Global Partners


Delta Air Lines

Deutsche Bank

Ernst & Young

Regency Suites Hotel
<![if !supportLineBreakNewLine]>
<![endif]>


GCIV would like to thank our Lifetime Members and members who have made financial contributions during July 2011:


Ambassador
($1000+)
Clark Dean


Attache
($100+)
Bernice Maw


Citizen Diplomat ($50+)
Ruth Blackstock
Myra Crawford
Bobbie Kraus
Terri Lynn Lewis
Armando Ruiz
Punam Sachdev


Envoy
($25+)
Maryam Farooq
Amanda Nichols
Raminta Zebrauskas


Ambassadors Circle
Nicolas Aquino
Charles and Nancy Bedford
David and Beverly Clyde
Lindsay and Rosemary Davidson
Clark Dean
Kevin Glass
Mrs. Richard Hallock
Phil and Raye Handler
Jim and Sue Heerin
Scott and Laurie Nichols
Sunny Park
Darren and Ann Short
Tycho Stahl and Yonni Kim
Ken and Linda Stewart
Shell Stuart
Bruce and Sharon Taylor
Raul and Annie-York Trujillo
Miller and Carolyn Williams
Lynne Zappone


Lifetime Members
Hans and Ada Almering
Pin Pin Chau
Jim and Carol Dew
Carol Emmons
Lew and Anne Hansen
Marianne McConnel
Helga Siegel
Miguel Southwell
Claudia Turner
George and Judy Varga
GCIV Trustees
W. Lindsay Davidson,
Chair
Invesco
E. Miller Williams,
Vice Chair
Ernst & Young LLP
J. David Clyde,
Secretary
Spinnaker Medical Consultants International
Yelena Epova,
Treasurer
Habif, Arogeti & Wynne
Charles Bedford
Atlanta Council on International Relations
Theodore R. Britton, Jr.
Honorary Consul General of the Republic of Albania
Clark Dean
Studley, Inc.
Ray Donato
Honorary Consul General of the Philippines
Silvana Eakin
International Women Associates Chair
Jorge Fernandez
Metro Atlanta Chamber
Phil Handler
UBS
Jenneke Heerink
DYMO
Ginny Johansmeier
VLJ Consulting
Yonni Kim
Arnall Golden Gregory
Charles Kuck
Kuck Immigration Parnters
Jessica Lewis
Alston & Bird
Jim Munson
Munson International
Laurie Grant Nichols
StandUp For Kids
John E. Parkerson, Jr.
Honorary Consul of Hungary
Mark Pierson
Pierson Global Group
Jai Rogers
Children's Healthcare of Atlanta
Darren Short
RBC Capital Markets
Laura Tordella
The Coca-Cola Company
Annie York Trujillo
International Women Associates
Kristian Wolf
German American Chamber of Commerce of the Southern U.S., Inc.

Tal Wright
Georgia Power

Lynne Zappone
Popeyes
GCIV Staff
Shell Stuart
Executive Director
404-832-5560 x 21
Emily O'Harris
Program Director
404-832-5560 x 15
Nicole Rateau
Community Programs Coordinator
404-832-5560 x 17
Irene Bailey
Global Partnerships Manager
404-832-5560 x 13

Quotes to Inspire Citizen Diplomacy
"To look over the history of why America became the economic and political giant it did, I look at immigration and diversity. We embrace diversity. Many countries in the world do not. Those countries think of diversity as a threat. We look at it as a strength. So the work you do is critically important in underscoring that point."

- Senator Benjamin Cardin
Cultural Heritage Preservation Delegation Visits Savannah and Sapelo Island
A multi-regional delegation studying cultural preservation visits Sapelo Island near Savannah, Georgia.
18 architects, archaeologists, curators and cultural preservation specialists from countries spanning the globe visited Savannah and Sapelo Island in mid-July. Their State Department International Visitor Leadership Program (IVLP) focused on the societal significance and challenges of identifying, documenting, protecting and interpreting history and culture. The visitors traveled to four U.S. regions in order to examine institutions and meet with individuals involved in research, presentation, conservation and education of U.S. cultural heritage.
While in Savannah, the delegation had informative and entertaining meetings with counterparts at Savannah College of Art and Design and the Metropolitan Planning Commission. They also spent a day on Sapelo Island, where they were hosted by the Sapelo Island Cultural and Revitalization Society (SICARS). SICARS is a nonprofit organization whose mission is to preserve and revitalize the Hog Hammock Community located on the island. SICARS shared with the delegation that Hog Hammock is the last intact Geechee/Gullah community in the Sea Islands of Georgia and is comprised of direct descendants of slaves brought to Sapelo in 1802. Geechee/Gullah people still maintain many elements of the unique West African culture, language and traditions of their ancestors.
GCIV Blog: Many Past Homes and International Programming Responsibilites
This blog post continues our retrospective, compiled in 1998 by former GCIV executive director Anne Hansen. Please be a part of our 50th anniversary celebration in 2012 by leaving comments about your GCIV memories, reasons for hosting visitors, and beliefs about the impact of our shared work.
GCIV has called a number of historic locations around the city of Atlanta home to its offices and in addition to the IVLP, has had many international programming responsibilities over the years including the International Women Associates, International Businesswomen's Network and the Language Bank.
The International Women Associates, a group of 130 women both American and international, meet once a month from September through May for social coffees in members' homes for programs of cultural interest. This group has its origins as the Committee for Wives of International Students in 1967 under the Atlanta International Student Bureau. Later called Friends of Internationals, the name was changed to International Women Associates in 1985. One of the earliest volunteers with this group was Ada Almering who in 1998 still conducted a monthly reading group for international women at her home.
Present-day members of GCIV's International Women Associates.

Click here to read the full blog post about GCIV's former offices, the history of the International Women Associates, International Businesswomen's Network and the Language Bank. We hope you will also share your memories/comments on GCIV's blog.

Network with Leaders from Around the World
<![if !vml]>
<![endif]>Take advantage of the opportunity to network with international leaders from around the world by joining GCIV as a Citizen Diplomat! GCIV's membership is critical to the success of our organization, as it serves as an important indicator of community support for the U.S. Department of State and other agencies that rely on us to arrange programs for and host hundreds of distinguished international visitors each year. Becoming a member is easy and offers perks like exclusive members-only receptions and hosting opportunities. Visit our membership page or contact Nicole Rateau at nicole@gciv.org or 404-832-5560 x 17 for more information.

<![if !supportLineBreakNewLine]>
<![endif]>

GCIV in the News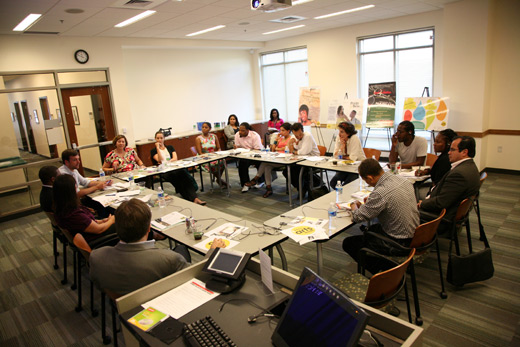 Emory Ethics Center leaders and their community partners met with visitors from Colombia to discuss the arts. Photo by Carlton Mackey.
In July, GCIV hosted a Colombian delegation of six artists and art advocates. Their visit to the Emory Ethics Center was featured in the Emory Report, the news and events resource for Emory staff and faculty. The article highlights the exchange of knowledge between both parties and the mutual understanding gained, a keystone of the International Visitor Leadership Program. Click here for the complete article written by Mashaun D. Simon.

Call for Emerging Leaders in Environmental and Energy Policy
The Atlantic Council, in partnership with the Ecologic Institute, has created the Emerging Leaders in Environmental and Energy Policy Network (ELEEP), a best practices clearinghouse for under-40 professionals working with environmental and energy-related issues. The network is now seeking applicants. Young leaders in both the United States and the European Union who work in the environmental and energy fields are encouraged to apply. Interested applicants should contact David Kirk at the Atlantic Council, at dkirk@acus.org. Click here for more information and application instructions.

IVLP in the News
The June issue of American Diplomacy features an article titled "The Heineken Factor? Using Exchanges to Extend the Reach of U.S. Soft Power," by Giles Scott-Smith, senior researcher at the Roosevelt Study Center in Middelburg, the Netherlands and friend of National Council for International Visitors (NCIV). The article features several IVLP case studies and concludes that "...cultural exchange, if managed with care and awareness, can only result in more openness, not less." Click here to read the entire article.

GCIV Envoys Attend Friday Jazz and Learn About the Foreign Service
GCIV Envoys at the High Museum's Friday Jazz.
In addition to receiving invitations for exclusive international functions, GCIV Envoys organize social outings at various cultural locations around town. In July, they attended Friday Jazz at the High Musuem of Art featuring U.K. songstress Julie Dexter.
GCIV also provides international career-building and networking opportunites for Envoy members. On July 25, Envoys learned about the Foreign Service and initiatives of the U.S. Department of State from Foreign Service Officer Rima Vydmantas at the German American Chamber of Commerce of the Southern U.S., Inc. Rima was participating in the State Department's Hometown Diplomats Program. Formerly a journalist at CNN, she just completed a one-year assignment as Assistant Information Officer in Islamabad, Pakistan.
Not yet an Envoy member? Sign up today and get connected! Envoy membership is open to all Citizen Diplomats age 40 and under. For more information about Envoy visit www.gciv.org/programs/envoy or contact Nicole Rateau at nicole@gciv.org or 404-832-5560 x 17.
Community Events
Wednesday, August 3, 6:30 - 8:30 PM
Federal and State Immigration Law Briefing
The World Affairs Council of Atlanta (WACA) presents a briefing by Jerry Gonzalez of the Georgia Association of Latino Elected Officials (GALEO) and Representative Scott Holcomb of Atlanta District 82. Amna Shirazi of Shirazi Law Group, Inc. will moderate. The event is at Atlanta International School, 2890 North Fulton Drive, Atlanta, Georgia 30305. $10 for World Affairs Council Members and $15 for non-members. Click on Young Leaders Programs here to register.
Sunday, August 7, 11:00 AM - 7:00 PM
Festival of India 2011
Presented by the India American Cultural Association (IACA), celebrate India's independence and 40 years of IACA. The festival features cultural programs, artist markets and hot and spicy foods at the Gwinnett Center, 6400 Sugarloaf Parkway, Duluth, Georgia 30097. For more information, visit www.iacaatl.org.
Monday, August 8, 8:00 - 9:00 AM
Breakfast with Robert G. Mikell
Dine with Robert G. Mikell, Deputy Commissioner of Georgia Department of Driver Services at the German American Chamber of Commerce of the Southern U.S., Inc. (GACC South). GACC South is located at 1170 Howell Mill Road, Suite 300, Atlanta, Georgia 30318. Cost is $25 for non-GACC South members and free for members. Space is limited and pre-registration is required. For more information, visit www.gaccsouth.com.
Tuesday, August 9, 7:30 - 9:30 AM
Gwinnett Global Business Connection - Hong Kong
Gwinnett Chamber Economic Development is proud to host the Hong Kong Trade and Development Council (HKTDC) for a breakfast where leading experts will give an update on the China market and local business leaders will share their success stories. The event is at 1818 Club at the Gwinnett Chamber of Commerce, 6500 Sugarloaf Parkway, Duluth, Georgia 30097. Click here to register or for more information.

Wednesday, August 10, 7:00 - 9:00 PM
Goethe-Zentrum Atlanta: Lola Rennt (Run Lola Run)
The German Cultural Center Atlanta is proud to present a sequence of four features on the art of animation every Wednesday evening between August 10 and September 24, as well as Saturday, September 24, 2011. RUN LOLA RUN was one of the most successful German films to be produced in 1998. A young man involved in small-time crime has 20 minutes to find 100,000 Marks, or he will be killed by his gangster boss. His girlfriend Lola rushes around madly trying to collect the money and save her beloved. This love story is told by the young Berlin director Tom Tykwer three times throughout the film, showing how even small events can have great effect on the story's outcome. Screening is at Colony Square, Plaza Level, 1197 Peachtree Street NE, Atlanta, Georgia 30361-2401. For more information visit www.goethe.de.

Thursday, August 11, 4:00 - 6:00 PM
Immigration Alert Business Seminar
Immigration compliance is becoming increasingly more important for businesses and foreign nationals in the United States. Recent developments in business immigration law, including visa and green card processing, e-verify requirements and new state law requirements in Georgia and Alabama will be discussed. Event is at Arnall Golden Gregory LLP, 171 17th Street NW # 2100, Atlanta, Georgia 30363. Cost is $35 for non-GACC South members and free for members. For more information, visit www.gaccsouth.com.

Saturday, August 27, 2:00 - 7:00 PM
German Bierfest
Celebrate the greatness of German beer in a family-friendly environment at the 8th annual German Bierfest. Complete with authentic German food, activities for the kids, music and fun, the German Bierfest is not only the only authentic German Bierfest in Atlanta, but the only family-friendly beer festival as well. At Woodruff Park, 95 Peachtree Street SW, Atlanta, Georgia 30303. Cost is $30 in advance, $35 at the door and attendees can drink all the beer they can safely consume. For more information, visit www.germanbierfest.com.

Ongoing - September 4, Noon - 5:00 PM
Oglethorpe University Museum of Art: "Goddess, Lion, Peasant, Priest: Modern and Contemporary Indian Art"
From the collection of Shelley and Donald Rubin, this is the first public display of more than 50 works from 30 of India's most famous artists, including Francis Newton Souza, Sakti Burman, Seema Kohli and Maqbool Fida Husain. With imagery from all walks of life, from the poorest citizens to dynamic deities, the works in this exhibition focus on India's people. Exhibition is at Oglethorpe University Museum of Art, 4484 Peachtree Road NE, Atlanta, Georgia 30319. For more information, visit www.museum.oglethorpe.edu.